Award winning Westgrove
Congratulations to our brilliant colleagues who have just scooped awards in this year's BSIA Regional Awards and ACS Pacesetters.
This is great news and testament to how you all continually go the extra yard for the company and our Partners.
The BSIA Regional Award winners are
Steve Allen – Midlands – SERVICE TO THE CUSTOMER (Haymarket)
Paul Ogden – North West- SERVICE TO THE CUSTOMER (Market Place)
Vijay Odedra – Midlands – BEST USE OF TECHNOLOGY (Haymarket)
Gavin Jones, Mr Matthew Lamb, Mr John Wallbank – Midlands – OUTSTANDING ACT (Ropewalk)
Steven Travis – North West – OUTSTANDING ACT (Arcades)
Matthew Bray – North West – BEST NEWCOMER (Concourse)
ACS Pacesetters (one of only 12 in the UK)
Steve Brooks – Security Officer of Distinction (Templars Square)
This is a huge achievement by all involved – well done! Fingers crosses for the national awards!
New Colleague Engagement Survey
Our second Colleague Engagement Survey is now online. This new survey focuses on career development and training.
We would love to hear from as many of you as possible – follow this link to complete the survey.
Thank you for your time.
Mental Health Awareness Week
Mental Health is something that Westgrove believes strongly in. Look out for a series of activities which we will be getting involved in during this important week, which runs from May 13-19. These include:
Promoting our Mental Health Awareness E-Learning, which is available online for all colleagues;
Discussing the important work done by Paul Ogden, our first Mental Health First Aider and advocate for mental health;
Daily hints and tips from our Brand Ambassador and mental health awareness supporter, Alex Staniforth;
Promoting the 'Colleague Forum' on our website and asking colleagues what they think we could do as a business to assist with mental health in the workplace;
Daily emails to all colleagues with links to the Mental Health Foundation website with free downloads.
Skyfall Abseil
We are – nervously – looking forward to helping our Partner St Johns Shopping Centre in Liverpool to raise £3,000 for Alder Hey by abseiling 450ft down St Johns Beacon on Saturday, 11th May.
If anyone would like to support us, please visit this page.
Reward and Recognition Awards – Quarter 1 2019 Winners
Here are all our R&R Award winners for Quarter 1. Congratulations to you all.
Site Manager of the Quarter – Shane Roberts, The Core
Shane's hard work and dedication has enabled us to raise our SLA score at The Core to 99.5%. He has strengthened the team, managed manning levels and created detailed procedures for the site to ensure compliance is met.
Colleague of the Quarter – Anthony Clegg, Grosvenor
We love Anthony's easy to use fire system's control panel guide which is perfect as a training manual for new security officers and all staff.
Team of the Quarter – St Johns Security Team
Well done to the team for their professionalism in dealing with a number of harrowing and challenging situations this year which have included escalator falls, serious assaults and first aid emergencies.
Service Excellence
We have a number of great nominations, which include:
Front of House Team – TATA Technologies
Special mention to Silvia and Phil from the EIDC reception team who go out of their way to welcome customers, help with conference room bookings and make sure visitor parking bays are available ahead of meetings. They both give 'wonderful support' and 'provide a super experience when people visit EIDC'.
Security Team – Birchwood Park
Thanks to the security team who quickly manned both barriers to the ANPR car park in heavy rain, allowing 700 people arriving at Birchwood Park to park their cars without any issues. Excellent customer service.
Sean Helbert and Paul Clarke – Birchwood Park
Sean and Paul were praised for spotting a contractor working at a weekend without a Building Manager on site. They prevented the contractor from potentially having an accident due to the high winds and kept health and safety well under control on site out of hours. With the telephone support of a Building Manager they did an excellent job, well done.
Gillian Davison and Dave Phillips – Market Place
Gillian and Dave acted quickly after a radio call from Debenhams reporting a flood in their plant room. Dave and two maintenance engineers from the site quickly went to assist and quickly cleared it up.
Robert Mercier – The Galleries
Whilst on car park patrol, Robert noticed loose signage on one of the public/pedestrian entrances to the shopping centre. He immediately contacted the duty manager and made the area safe for the public.
Rob Hawkins and Luke Aries – Gloucester Quays
After a gentleman fell and injured his head, Rob carried out First Aid and Luke assisted before an ambulance arrived. Once then man had recovered he wrote to centre management to tell them how well they had looked after him.
Neil Disley – St Johns Shopping Centre
Neil, who works in the centre's control room, spotted a man smashing windows. He reviewed all the CCTV footage to hand over to the Police. The next day, he spotted the same man at the back of the centre and arranged for security staff to detain him.
Edward Booker – Templars Square
Edward spotted an elderly man in distress who was struggling to walk. He calmed him down, collected a wheelchair from the management suite and arranged for a taxi to take him home – kindly paying for it himself. He also stayed on for an hour after the end of his shift to ensure all the night cleaning jobs were completed. Outstanding.
Renay Snelson – Runcorn Shopping City
Renay was thanked by a member of the public for her help, support and compassion when she visited the centre for the first time after her partner's death. The lady said that it was the first time for a while that she had felt like a person and not a widow. Outstanding customer service, Renay.
Tom Lewis – National Operations Manager
Tom was praised for the professional way he dealt with a very difficult situation at Riverside. Tom was able to organise an internal process without delay and worked with the DSM in ensuring all shifts were covered following the departure of a Westgrove employee.
Cleaning Team – Riverside
The Cleaning Team were praised by our Partner for their high standards, their positive approach and their team spirit. They are a 'real credit' to themselves and Riverside.
Security Team – The Galleries
Thanks to the team for their quick thinking after a serious accident which helped to keep the public away and freed cars from the car park.
Outstanding Act
Our quarterly winners include:
Mark Quinn – St Johns Shopping Centre
Mark came across a distressed disabled man in a faulty electric wheelchair on the mall. Mark calmed him, called the man's relative and arranged for a taxi to take him home.
Security & Cleaning Team – Templars Square
The entire team won praise for a number of incidents they handled superbly on a busy day in March. These included tracking down a handbag thief and returning the bag to the upset elderly lady it had been stolen from and coming to the rescue after witnessing a man being assaulted in the car park.
Martin Wain – Templars Square
Martin calmly helped a distressed suicidal woman. He talked to her, listened and made her a cup of tea before calling the police to make sure she was taken to hospital to get the help she needed. A fantastic example of an officer making a difference by caring and being aware.
Security & Cleaning Team – Runcorn Shopping City
The entire team at Runcorn Shopping City worked tirelessly to deal with a major incident on site. They were professional, discreet and seamless in dealing with this incident and their hard work and efforts were recognized by our Partner and very much appreciated by all. Well done.
Jason Corker – The Riverwalk
Jason helped identify two known shoplifters which led to their arrest.
Steve Brookes & Richard Holmes – Templars Square
Steve consistently goes above and beyond what is expected of him. In addition to this he has now taken it upon himself to train our other night shift officer and between them they have done an astounding job not only looking after the centre but also the local community. In the last few months they have dealt with a number of incidents.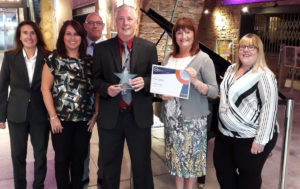 Dave Phillips, Denise Phillips and Paul Ogden – Market Place
Well done to our security guards for quickly responding to reports of a potential suicide. Our guards were brilliant and talked to the man while waiting for the emergency services to arrive. I'm glad to say the man is still alive, which is a big thank you to Paul and Nikki for their skills, whilst Dave and Denise controlled the situation.
Natalee Watmough – The Lowry
Natalee also showed professionalism and calmness in a difficult situation when a young man was threatening to jump from the car park.
Matthew Barrett, James Thompson and Gregorz Birowka – Stamford Quarter
The team responded with the utmost professionalism after a suicide in one of the service areas.
Chris Edwards – Maylords
Chris remained extremely calm, kept a professional manner and was helpful throughout an incident when a stall holder tenant went into cardiac arrest.
Rob Hawkins, Tom Chandler, Lisa Anderson, Alan Beattie, Lanre Bhadmus and Steve Mott (MSO) – Gloucester Quays
Well done to all involved who helped restrain a woman who had attempted to jump from a car park in the city centre.
Security Team – Templars Square
The fast action of the Security Team helped the police to arrest and charge a man who was seen in the centre with two large hunting knives.
CSR Of The Quarter
Our winners include:
Market Place
Thank you to the team for their work helping singer Jamie Lawson and his team make his new music video in the centre. Two of the Market Place team are actually in the video!
Lee Stones – Haymarket
Lee has been instrumental in helping the centre raise funds for their nominated charities. Thank you Lee.
Runcorn Shopping City
Thank you to every member of staff who helped to make the centre's Christmas appeal to collect warm clothing for homeless people in the North West such a success. A great team effort.